mLIMS for Facilities
mLIMS for Facilities re-invents animal facility management
Overview
mLIMS Facility is designed for animal facilities, vivariums, and animal resource centers. mLIMS Facility supports multiple species and helps animal facility managers and staff to improve efficiency and reduce costs. Bring animal facility management to the next level with mLIMS Facility.
mLIMS Facility is web-based and user friendly, and contains features specifically designed for various animal user roles like facility manager, veterinarian, technicians, and researchers. mLIMS Facility helps animal resource centers to maintain accurate records, save time on billing and reporting, track IACUC usage, and improve efficiency.
mLIMS Mouse Colony Management System is a leader in providing animal colony software for researchers, animal facilities, and organizations. The system can be seamlessly integrated with third party software for billing and compliance purposes, and the system can be expanded to have research labs also manage colony data.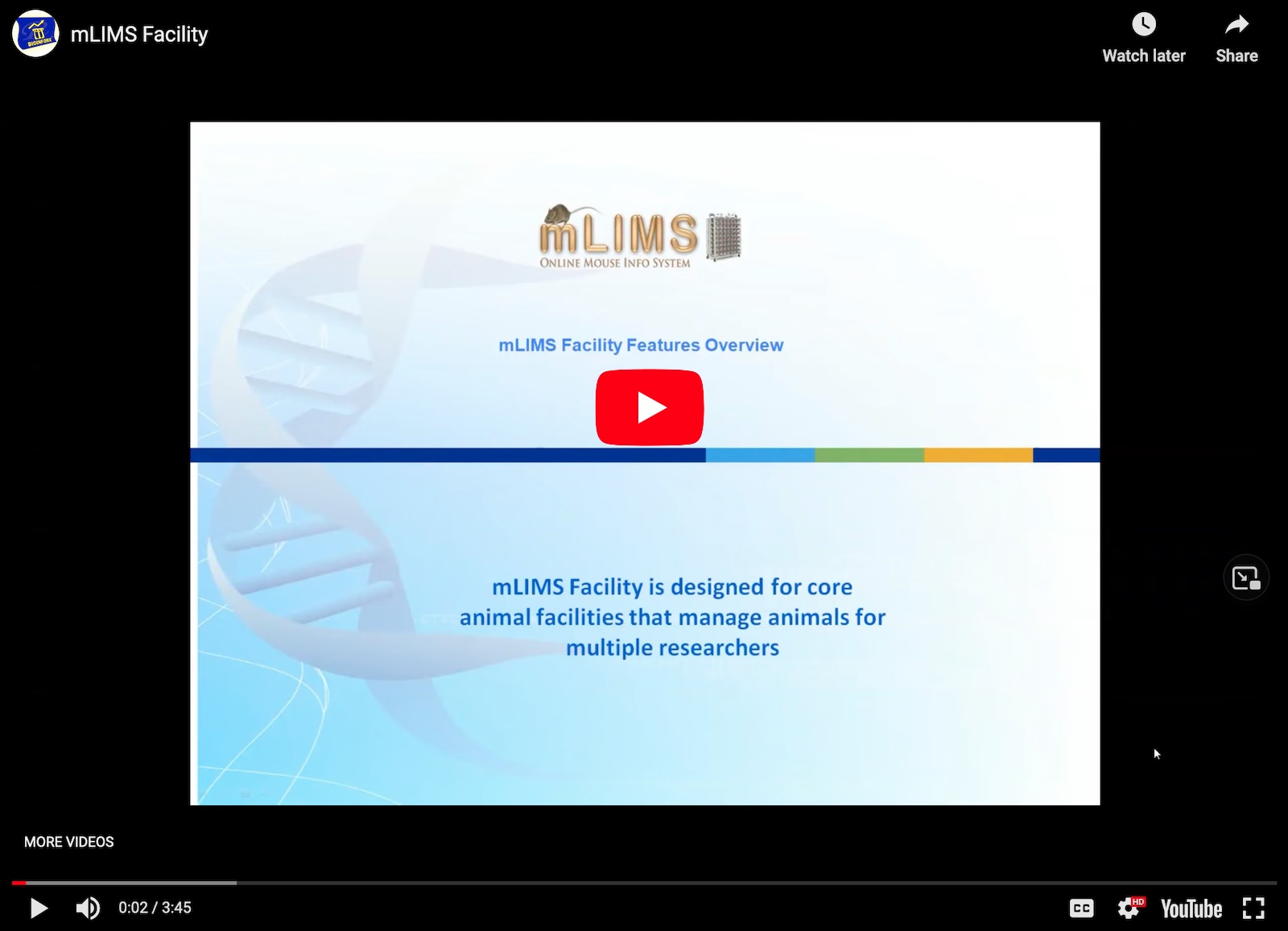 For Facility Managers
Lab Management
Create and manage labs and users
Assign user permissions
Assign animals to labs
Cage and Room Management
Manage room, cage, and rack locations
Manage room inspections
Create cage maps
Protocol Management
Assign and manage protocols
Track protocol usage and quotas
Support integration with 3rd party system
Billing
Set cage and task rates
Create billing accounts
Create billing reports
Task Management
Manage service requests
Assign tasks to facility staff and send reminders
Reporting
Animal and cage usage
Protocol usage
Breeding reports
For Veterinarians
Manage Medical Records
Create and update medical records
Identify clinical signs
Manage and track treatments
Message researchers
Link to medical billing
Reducing Time to Diagnosis
Preset the clinical signs and the corresponding treatment plans
Help the vet to speed up the diagnosis process
Standardize the workflow and procedure
Reporting
Create medical report at the various level, e.g., room, lab, time period
Summarize the cause and the treatments
Help on budgeting
For Technicians
Manage Cages and Animals
Add and edit cages and animals
Transfer animals between cages
Treat sick animals
Cage check
Room Checks
View and update task lists
Keep cage rooms up to date
Review all activities by location
Count cage for billing
Complete Service Requests
Review assigned requests from labs
Update and complete requests
Link requests to billing
Manage Breeding
Create matings and get reminders
Add and manage litters
Reminders for tag and wean dates
Breeding performance and pups survival report
For Research Labs
Manage Cages and Animals
Track Experiments and Measurements
Manage Breeding Tasks
Track Strains and Genes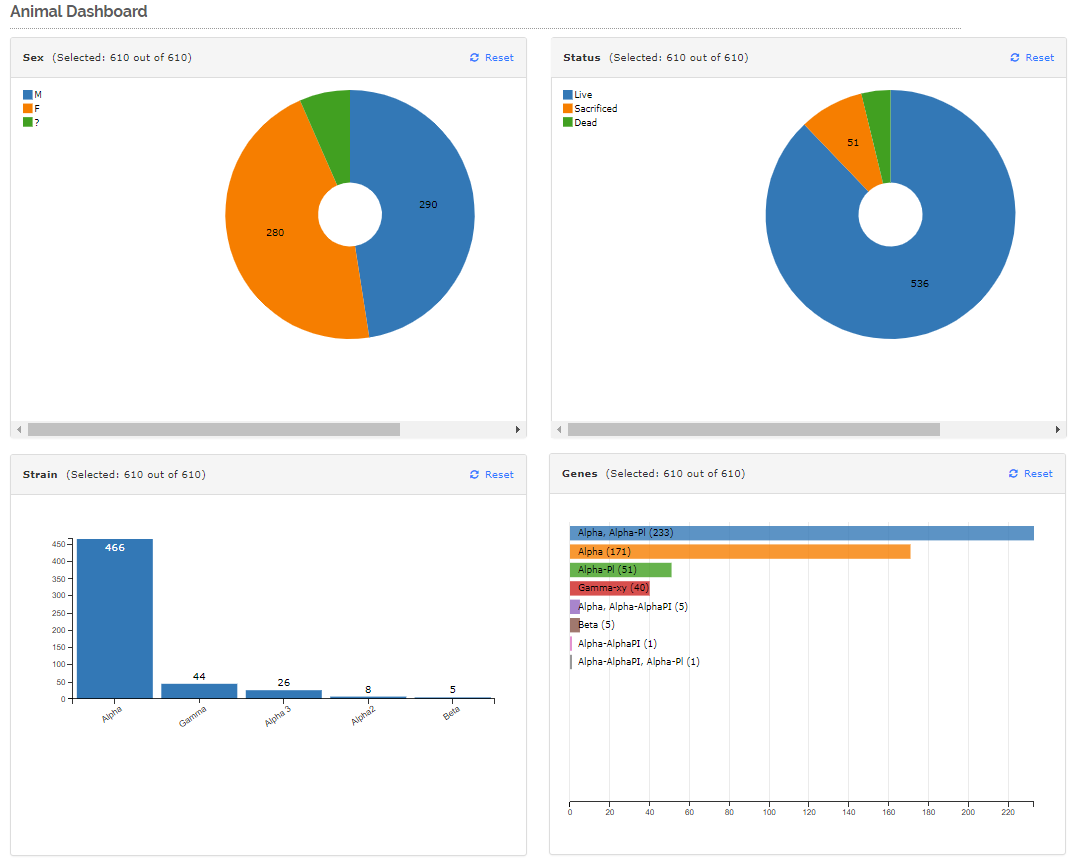 Manage Lab Animals
Create and save searches, update animals
Manage animal strains and genotypes
Generate animal reports
Set reminders for animal management
Manage Breeding & Pedigrees
View and manage breeding events
Set reminders for tagging, weaning
View full pedigree and common ancestry
Experiments & Measurements
Create experiment cohorts and set reminders
Manage experiment data
Enter measurements and analyze results
Submit Service Requests
Submit requests to facility
View request progress and completion date
Billing
Review cage usage and task charges
Receive and review monthly billing
Benefits
Low Setup Cost, Simple User Interface
Cloud based system, no installation needed
Simple implementation, advanced import tools and fast setup
Intuitive web-based interface, requires only minimum training
Improve Productivity and Reduce Cost
On-site animal records management
Cage cards with barcodes, cage maps, and pedigree tracking
Convenient workflow for breeding and genotyping
Email notifications and calendar for tasks and alerts
Powerful search, sort, and reporting functions
Accurate, Real-Time Census for Per Diem Billing
Cage census with batch scan using barcodes
Real-time, dynamic cage account for every lab
Per diem billing categories and individual pricing options
Support for billing tasks and medical treatment
Auto-calculation of charges based on actual usage
Better Communication between Facility and Research Labs
One accurate database, better interaction with research personnel
Ticket system for task requests
Real-time animal and cage summary for each research lab
Email notifications
Seamless integration with mLIMS Enterprise to enable management by both research labs and facility
Permanent Records and Compliance Tools
IACUC Protocol management with automatic animal census
System alerts for overcrowded cages, empty cages, and more
Role based access with user permissions
Complete animal and cage history with full audit trail
Daily backup, permanent records
mLIMS Animal Colony Management System is 100% web-based and mobile-friendly. No special software or hardware is required for cloud-based services. Local hosting is also available. Contact us for a free trial and demo of mLIMS Mouse Colony Management system.
Pricing
All Pricing is based on a 12 month contract.
Get a free iPad or discount for multiple year contracts.
FOR RESEARCHERS
(Academic/Non-Profit)
| | |
| --- | --- |
| Single User | - $360/yr |
| 2 Users | - $400/yr |
| 3-5 Users | - $600/yr |
| 6-10 Users | - $840/yr |
| 11-15 Users | - $1,100/yr |
| 16+ Users | - Contact Us |
| Commercial | - Contact Us |
MLIMS FOR BIOTECH
Starting at $720 per year
MLIMS ENTERPRISE
Starting at $360 per lab per year
MLIMS FACILITY
Starting at $1000 per year
mLIMS Add-Ons
Cage Census for mLIMS For Researchers (Learn More)
$50 per user per year
---
Single User
In this mode, only one user can access the system. It is good for labs with only one researcher responsible for animal information tracking. A single user account contains all features except Projects, which is designed for multi-user groups. Account sharing is not recommended for audit trail and tasks; if you have more than one user, a group account will meet those needs.
Group User
In this mode, multiple users can access the system simultaneously. Each user has an independent account with permissions set by the group manager. Whenever a record is updated, mLIMS will show who made the last changes. The system can also summarize the number of cages and animals for each user.
Large Group (21 users or more)
Please Contact Us for pricing information.
mLIMS Enterprise and Facility
Please Contact Us for pricing. Please provide information regarding hosting, number of labs, number of cages in facility, number of users, and any other special requirements.
mLIMS Suite of Products
Multiple versions of mLIMS to fit your needs
| Product | Description |
| --- | --- |
| mLIMS for Researchers | Animal colony management for individual research labs. |
| mLIMS for Biotech | A special version of mLIMS is available for biotech and pharma companies. |
| mLIMS Enterprise | Group license for multiple research labs in a department or institute. |
| mLIMS Facility | Special version for managing animal colony at a core facility; it provides accurate animal census reporting, task management and billing capabilities. Researchers will have read-only access to the system. |
| mLIMS Complete | All the features of mLIMS Standard, Enterprise and Facility to meet the needs of your entire organization |