mLIMS for Enterprises
Animal management solution for a few labs or the entire institute
Overview
mLIMS Enterprise is a web-based mouse colony management tool designed for a group of mouse research labs within the same university or research institute. Each individual lab will enjoy the same tools as mLIMS for Researchers, and the institute will have access to these additional features to facilitate centralized management.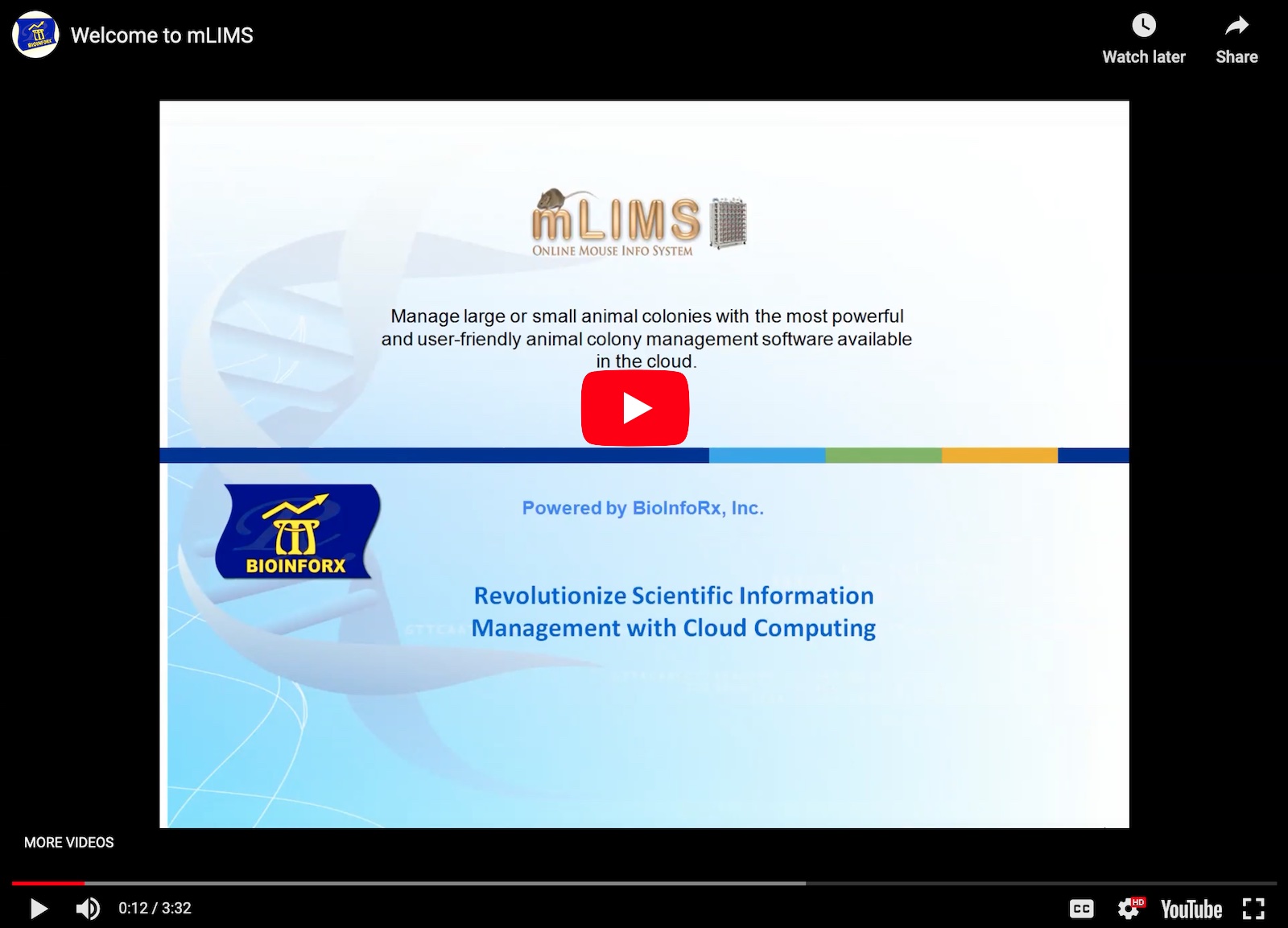 Features
Everything you need to manage your animal colonies, made simple!
Whether you have a 50-cage or 10,000-cage colony, mLIMS is equally easy to use.
| | |
| --- | --- |
| | Better Communication between Facility and Research Labs |
Your institute can manage animal information across many labs centrally on a single domain using mLIMS Enterprise. Administrators mange labs from a centralized control panel.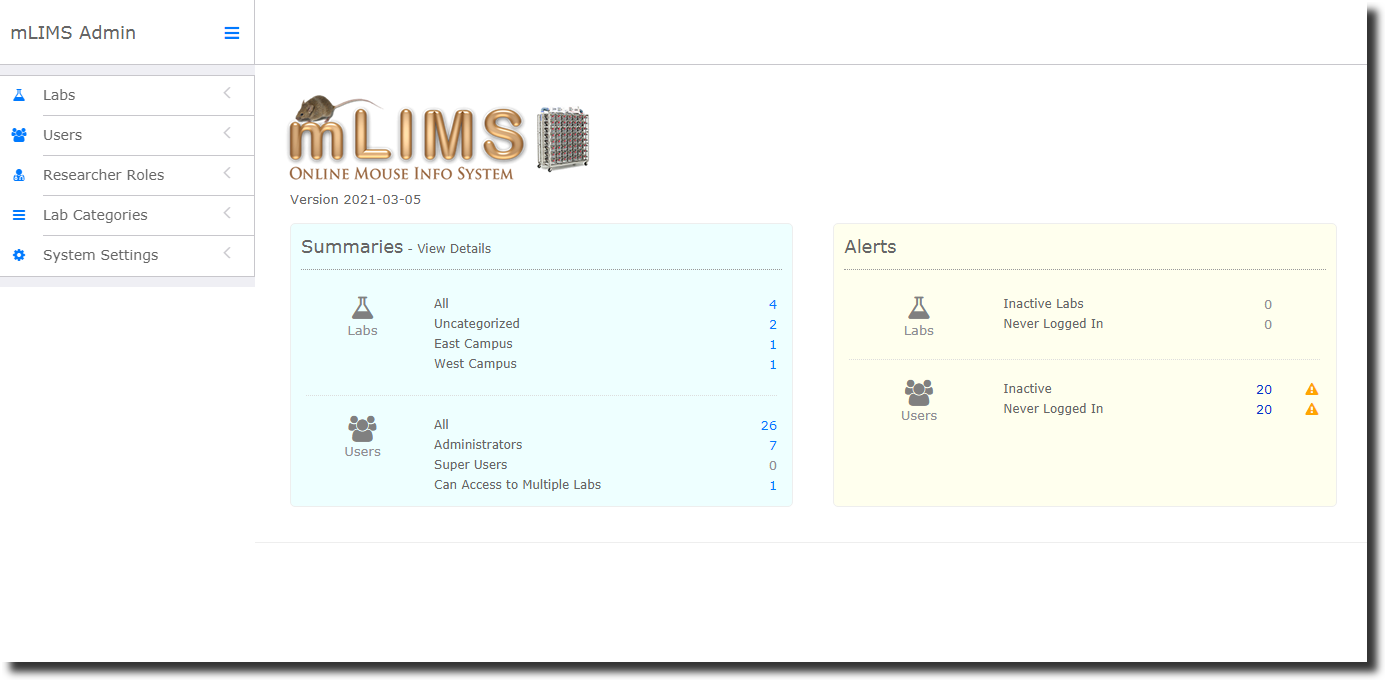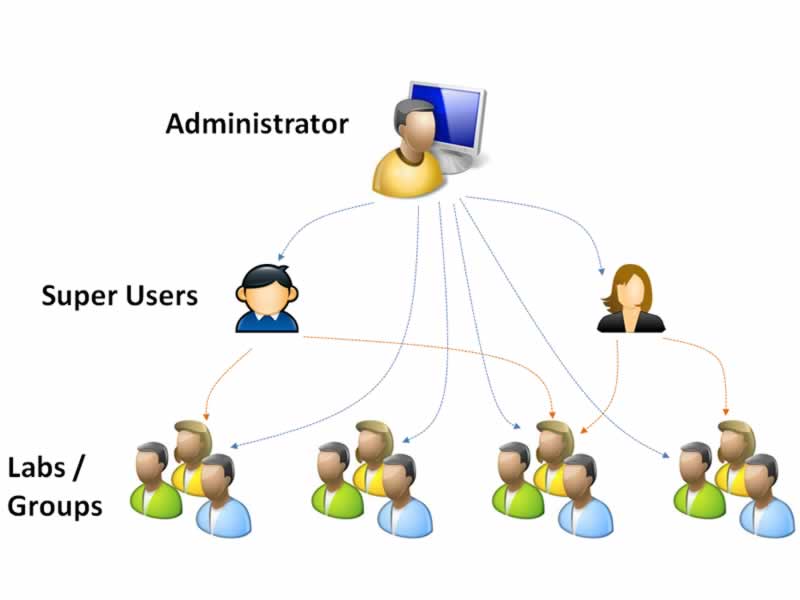 | | |
| --- | --- |
| | Permanent Records and Compliance Tools |
mLIMS Enterprise provides role-based access. While each group has access to their own animal data, administrators and super users can access multiple labs, and administrators can add or remove users and labs.
Create labs and add/remove users for your entire organization using the admin control panel.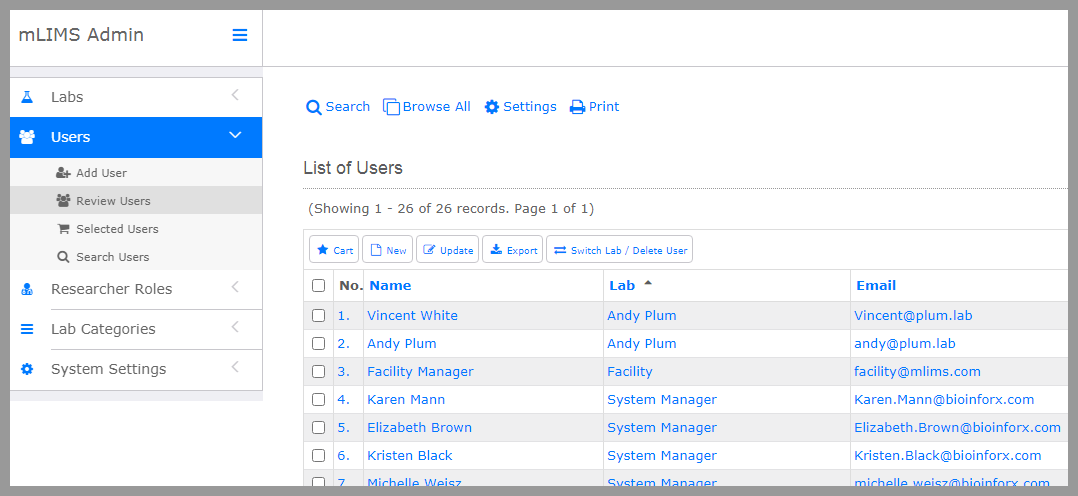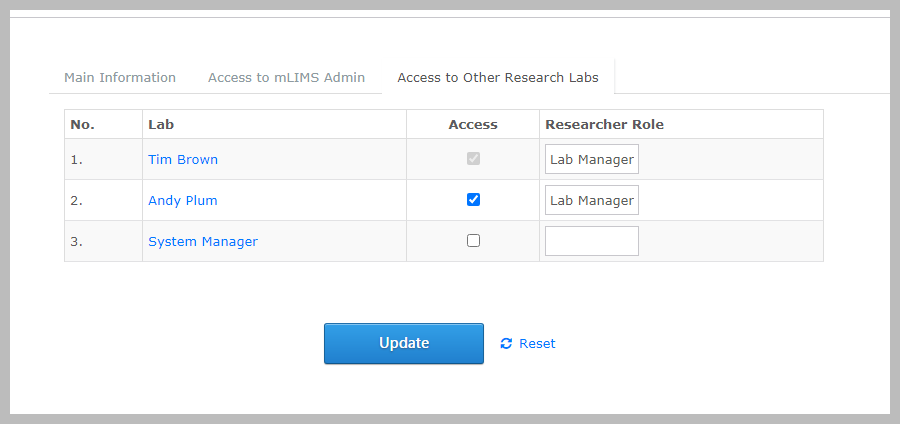 Create user roles with defined permissions, and assign super users to more than one lab.
List of Key Features
Your institute's own domain for mouse colony management
System tailored to your institute's specific needs for cage cards, naming scheme, login methods, etc.
Administrator roles to add or remove labs and users
Super user roles enabling one user to work within multiple labs
Advanced animal project tools for easy collaboration
One flexible annual subscription based on actual usage
Local or remote hosting options, all with full IT support
Support intergrating mLIMS with your institute authentication system (using your institute account to log in to mLIMS)
Pricing
All Pricing is based on a 12 month contract.
Get a free iPad or discount for multiple year contracts.
FOR RESEARCHERS
(Academic/Non-Profit)
| | |
| --- | --- |
| Single User | - $360/yr |
| 2 Users | - $400/yr |
| 3-5 Users | - $600/yr |
| 6-10 Users | - $840/yr |
| 11-15 Users | - $1,100/yr |
| 16+ Users | - Contact Us |
| Commercial | - Contact Us |
MLIMS FOR BIOTECH
Starting at $720 per year
MLIMS ENTERPRISE
Starting at $360 per lab per year
MLIMS FACILITY
Starting at $1000 per year
mLIMS Add-Ons
Cage Census for mLIMS For Researchers (Learn More)
$50 per user per year
---
Single User
In this mode, only one user can access the system. It is good for labs with only one researcher responsible for animal information tracking. A single user account contains all features except Projects, which is designed for multi-user groups. Account sharing is not recommended for audit trail and tasks; if you have more than one user, a group account will meet those needs.
Group User
In this mode, multiple users can access the system simultaneously. Each user has an independent account with permissions set by the group manager. Whenever a record is updated, mLIMS will show who made the last changes. The system can also summarize the number of cages and animals for each user.
Large Group (21 users or more)
Please Contact Us for pricing information.
mLIMS Enterprise and Facility
Please Contact Us for pricing. Please provide information regarding hosting, number of labs, number of cages in facility, number of users, and any other special requirements.
mLIMS Suite of Products
Multiple versions of mLIMS to fit your needs
| Product | Description |
| --- | --- |
| mLIMS for Researchers | Animal colony management software for individual research labs. |
| mLIMS for Biotech | A special version of mLIMS mouse colony software is available for biotech and pharma companies. |
| mLIMS Enterprise | Group license for multiple research labs in a department or institute. |
| mLIMS Facility | Special version for managing animal colonies at a core facility; it provides accurate animal census reporting, task management and billing capabilities. Researchers will have read-only access to the system. |
| mLIMS Complete | All the features of mLIMS Standard, Enterprise and Facility to meet the needs of your entire organization |