BxGenomics enables biologists to easily analyze single-cell and bulk RNA-Seq data, identify changed genes and enriched pathways, and further visualize the results and compare across projects. The integrated (sc)RNA-Seq data solution of BxGenomics includes three key parts.
Efficient data management system for public and private datasets
Powerful analytical pipelines
Interactive data visualization tools
Explore Public Single-Cell and Bulk RNA-Seq Data
We developed an integrated web database including single-cell RNA-Seq data from over 400 published datasets from multiple species and many tissues. It provides an efficient data management system for single cell datasets. Users can search the database by multiple attributes such as publication, key words, species and cell types. Advanced filter and across-dataset gene expression tools enable users to quickly find the datasets of interest and compare the expression of gene(s) across these.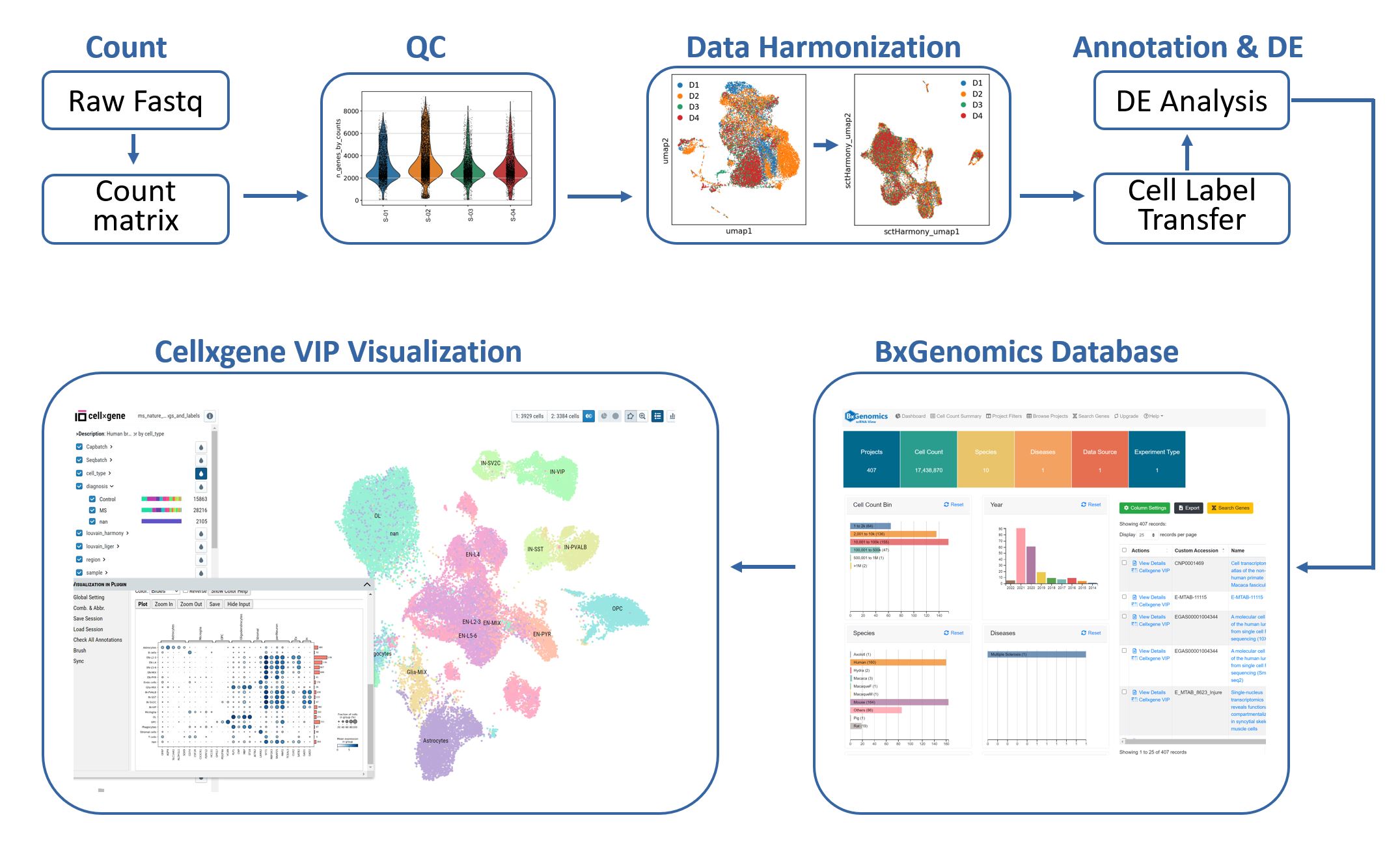 Importantly, each scRNA dataset can be loaded into the cellxgene VIP tool, which enables fast exploration of individual dataset in the manner of interactivity and scalability to gain more refined insights such as cell composition, gene expression profiles, and differentially expressed genes among cell types by leveraging more than 20 frequently applied plotting functions and high-level analysis methods in single cell research.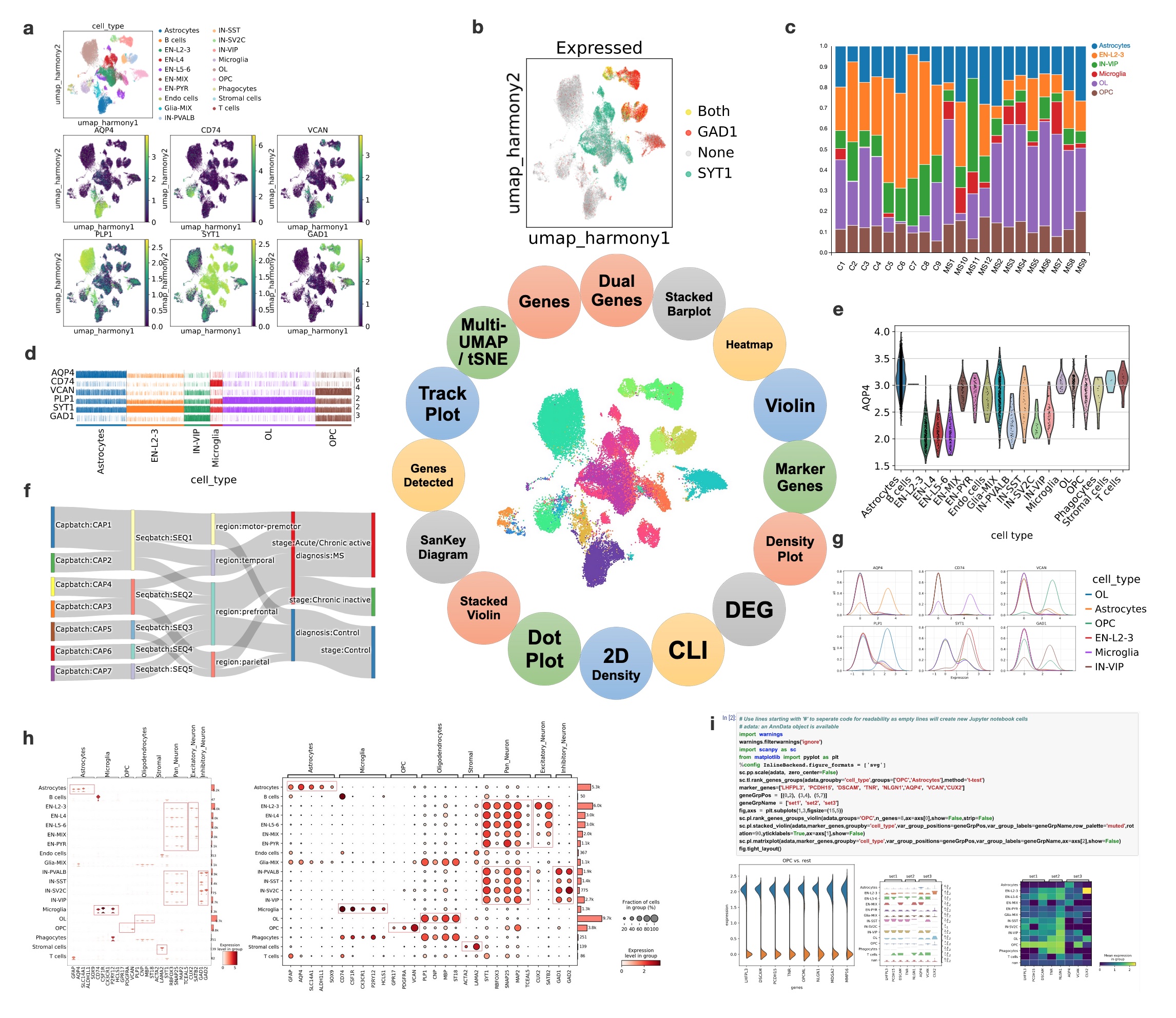 Figure legend: Cellxgene VIP includes analytical modules that provide essential functions for interactive visualization and generation of publication-ready plots. (a) Multi-tSNE/UMAP plot visually highlights which cells expressing cell markers on selected embedding (UMAP based on harmony batch correction in this example). (b) Dual-gene plot highlights cells express SYT1 and GAD1 (green SYT1 only, red GAD1 only, yellow co-expression of STY1 and GAD1), expression cutoff 2.2. (c) Stacked barplot demonstrates the fraction of each major cell type across each sample (C are Control and MS are MS patients). (d) Trackplot shows expression of lineage marker genes across individual cells in annotated clusters. (e) Violin plot shows the AQP4 gene expression across cell types. (f) Sankey diagram (a.k.a. Riverplot) provides quick and easy way to explore the inter-dependent relationship of variables in the MS snRNAseq dataset8. (g) Density plots shows expression of marker genes across annotated clusters and split across cell types. (h) Stacked violin and Dot plot are the key visualizations of selected cell markers across cell types. They highlight their selective expression and validates the scRNAseq approach and visualization method. (i) Command Line Interface (CLI) exposed by mini Jupyter Notebook to provide maximal flexibility of doing various analytics on the whole or sliced single cell dataset.

About 700,000 human samples from over 12,000 projects in GEO and SRA are included in the BxGenomics Bulk RNA-Seq View platform. For each project, the sample meta data is extracted and can be used to annotate samples and specify conditions for comparisons. For each sample, gene count data is used to perform statistical analysis, and gene TMP data is used for visualization of gene expression.
Explore Public RNA-Seq Data
BxGenomics system includes data processing capabilities to enable users to perform differentially expression gene (DEG) analysis and pass the results to the downstream data mining application QuickOmics.
Quickomics is a feature-rich R Shiny-powered tool that enable biologists to fully explore RNA-Seq results and perform advanced analysis in an easy-to-use interface. It covers a broad range of secondary and tertiary analytical tasks. Each functional module is equipped with customizable options and generates both interactive and publication-ready plots to uncover biological insights from data.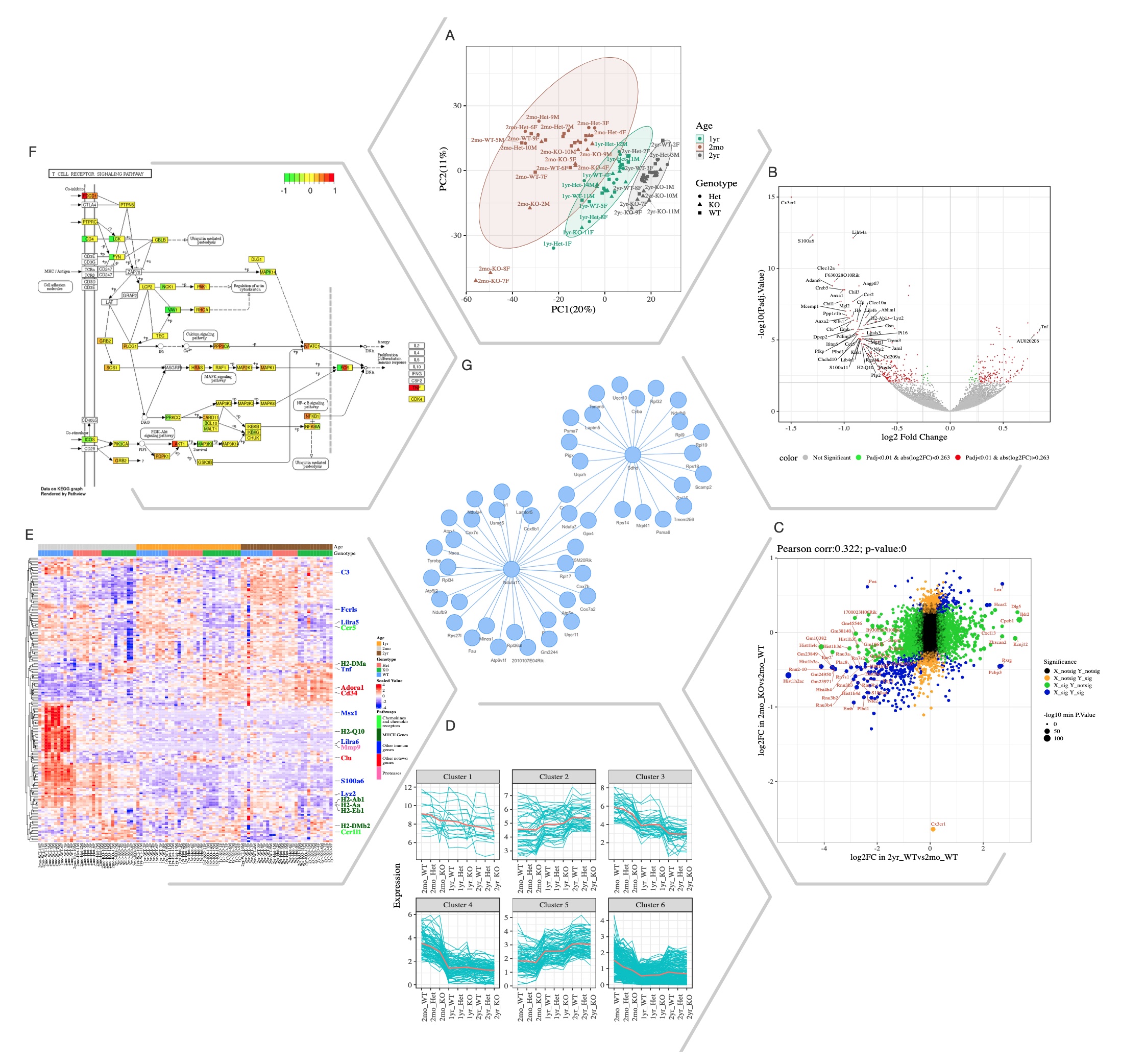 Figure legend: Selected Quickomics functions applied to a dataset of microglial RNA-seq gene expression from three mouse genotypes over time. (A) PCA based on full dataset highlights primary sample separation by mouse age at which the cells were isolated. (B) Volcano plot visualizes differentially expressed genes, most of which show reduced expression in 2mo KO compared to 2mo_WT microglia. For spacing purpose, absolute log2FC (Fold Change) and negative log10 adjusted p-value are capped at 1.5 and 15, respectively. (C) Correlation analysis between two comparisons shows that aging and Cx3cr1-KO have a similar effect on gene expression. (D) Pattern clustering identifies subsets of genes with similar expression over the samples. The clustering is mostly driven by age, with the KO genotype having a similar, but smaller effect. (E) Heatmap of all samples allows the identification of gene clusters with expression regulated by age and/or genotype. Key genes and the pathways they belong to are highlighted on the right. (F) After pathway enrichment analysis, KEGG pathways (Kanehisa and Goto, 2000) of interest can be displayed in a cellular context. The color bars with each stripe representing one comparison show log2 fold changes in various comparisons, allowing project-wide insights for patterns of expression. (G) Correlation network shows potential links between genes of interest.
Analyze Your Own Data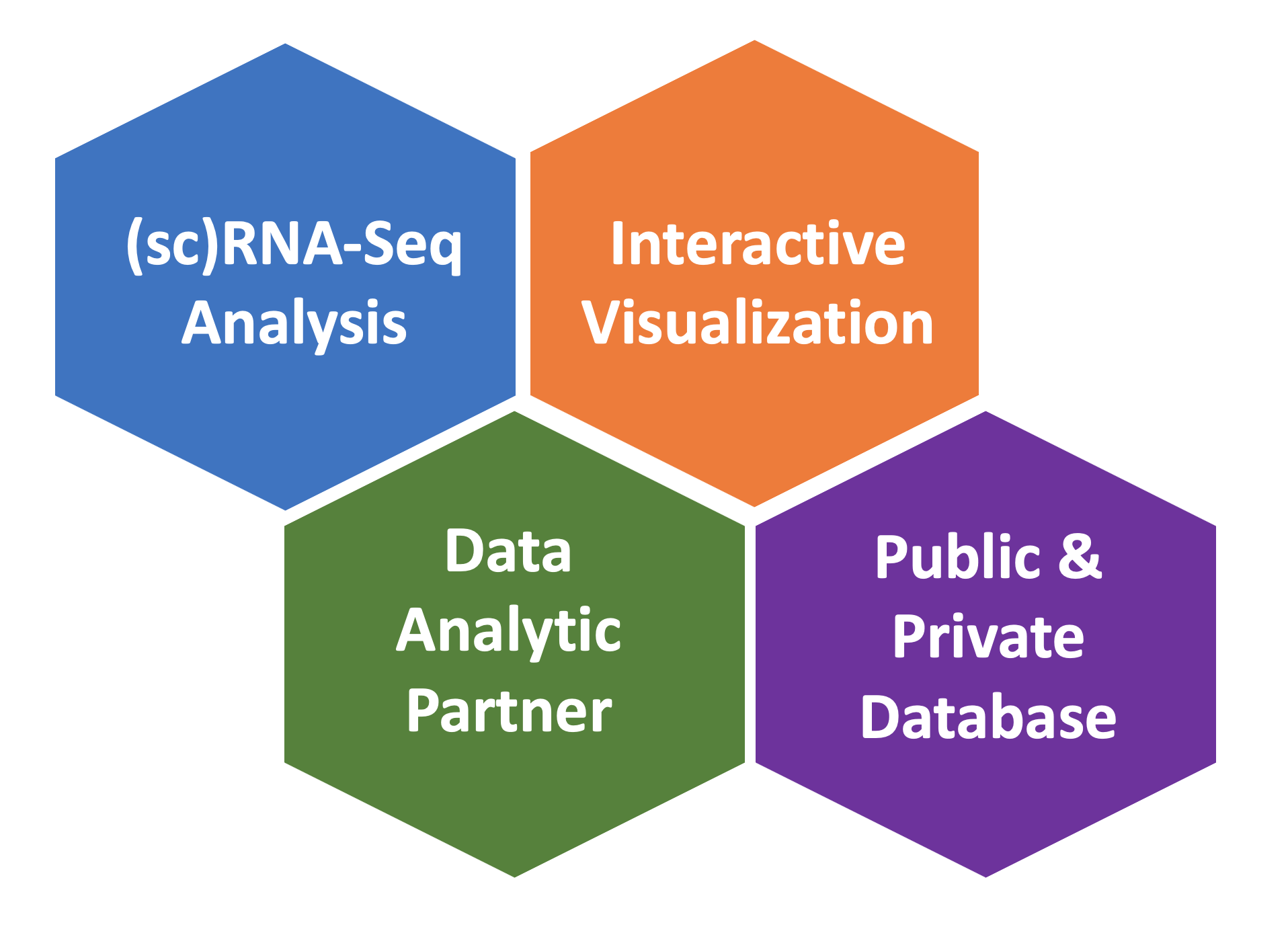 BxGenomics enables biologists to easily analyze bulk and single-cell RNA-Seq data, identify changed genes and enriched pathways, and further visualize the results and compare across projects using interactive data mining tools.
Why Use BxGenomics and Related Services?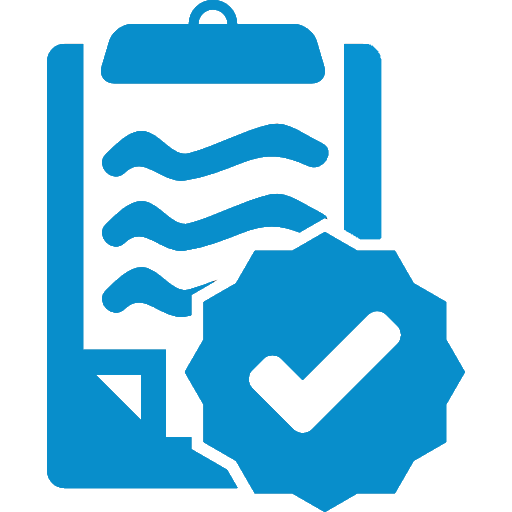 Biologically Meaningful Answers
Immediately find changed genes and functional pathways in instant reports.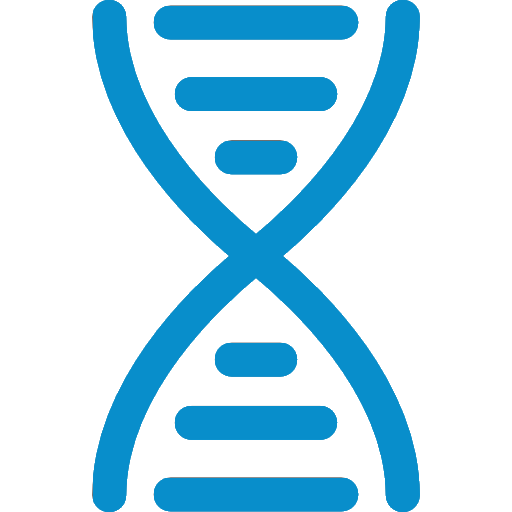 Full Potential of Data
Explore your results in an interactive online database to delve into details.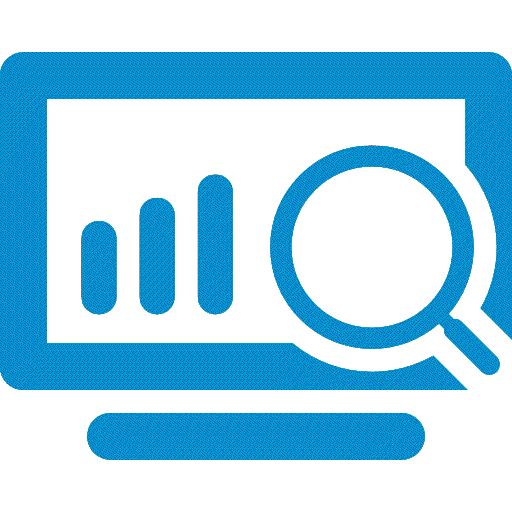 Expert Bioinformatics Support
Rest assured that your data are in good hands and help is always available.
Data Analysis Service Overview
| Type of Analysis | Bulk RNA-Seq | scRNA-Seq |
| --- | --- | --- |
| Input | Raw fastq files or gene count and gene TPM files | Count matrix file, or raw fastq files |
| Gene Level Analysis | QC (PCA, covariates); gene expression plot, clustering and correlation; heatmap with functional gene sets. | Multi-UMAP/tSNE; violin and dot plot for genes of interest; stacked barplot for cell types; Sankey diagram for variable relationship. |
| Advanced Analysis | Differential gene expressed between conditions; Venn diagram of comparisons; functional enrichment and pathway overlay. | Identify marker genes; assign cell types based on reference data; differential gene expression and gene set enrichment. |
| Visualization Tool | QuickOmics | Cellxgene VIP |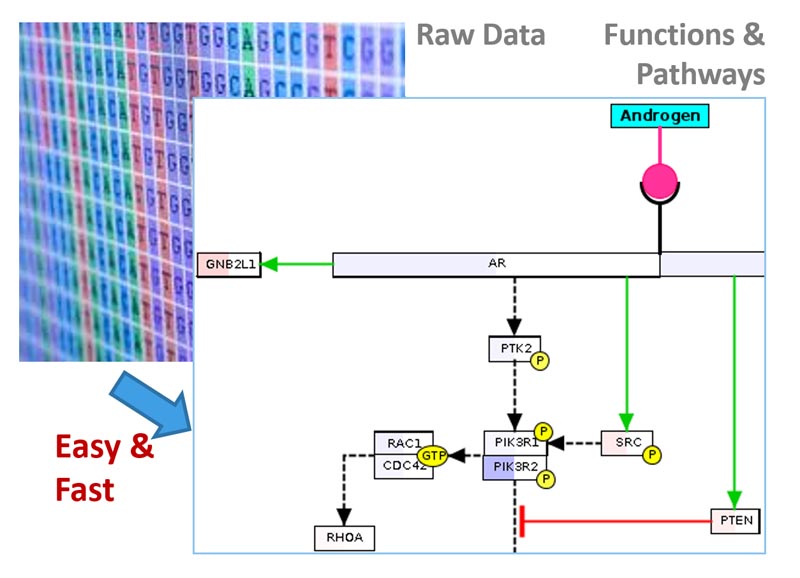 RNA-Seq Analysis service is easy to use. Just provide raw data and sample description, and a professional report and personal online database will be delivered to you in 1-2 weeks.
An expert-designed analysis pipeline will work for you behind the scenes, including comprehensive QC of raw data and gene counts, robust statistical analysis for differentially expressed genes, advanced functional pathway analysis, and more. All results are reviewed by experts before final delivery.
Achieve Data Integration and Archive in One Step
Once the RNA-Seq data is upload to the BxGenomics data mining platform, authorized users can access the data with a browser anytime from anywhere with internet connection.
Different kinds of gene IDs are automatically recognized and converted so gene expression data are easily integrated between different projects analyzed with different types of gene IDs.
The BxGenomics platform serves dual purposes, as a data mining system of all RNA-Seq results in the laboratory to enable continuous discovery, and as a data archive system to enable data longevity and long-term access.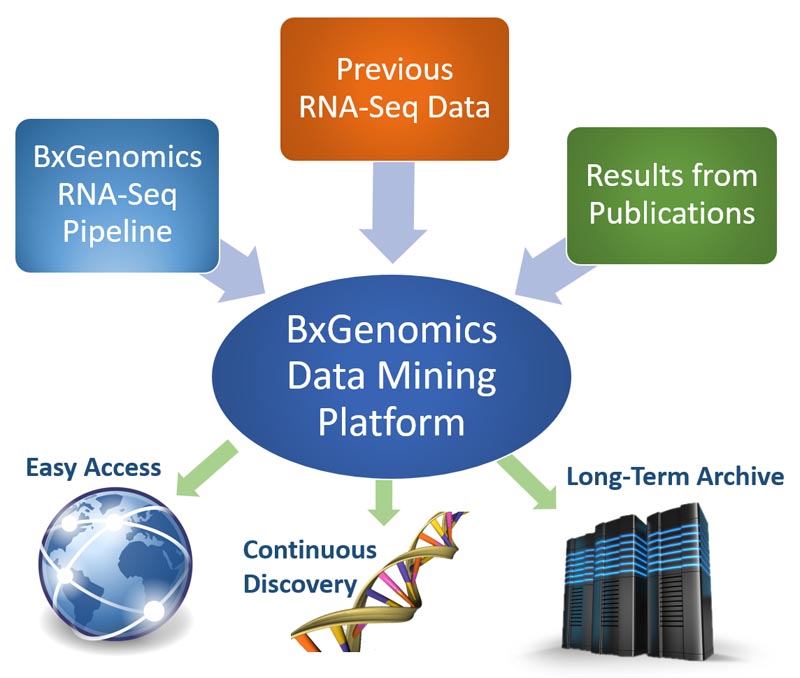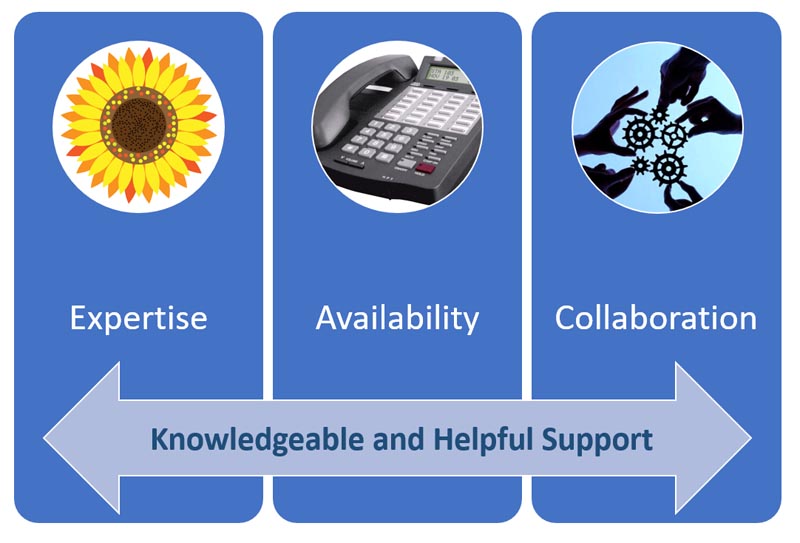 Knowledgeable and Helpful Service Team
The BxGenomics RNA-Seq service team consists of highly educated scientists and customer support managers with years of experience in biological studies and genomics.
The team works collaboratively with customers to provide the utmost service for the success of every RNA-Seq project. Customers benefit from continuous high-quality technical support by a friendly and responsive team.
Methods and References
Methods
Bulk RNA-Seq Analysis
Generate gene count, one of the methods will be used based on the project.

Subread + Featurecount
STAR + RSEM
Kallisto or Salmon

Differential Expression, limma or DESeq2
Data Visualization, QuickOmics
Bulk RNA-Seq Analysis
Count Matrix from 10X raw data: Cellranger
Data analysis, Seurat, Scanpy, Harmony, LIGER
Data Visualization, Cellxgene VIP
Single-Cell database, CellDepot
References
RNA-Seq Data Mining Made Easy by BxGenomics